Camping Accommodations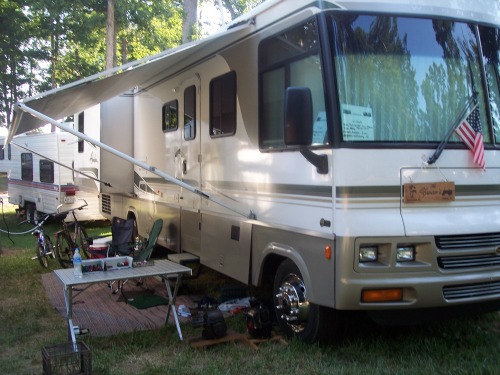 The Denton FarmPark would like to welcome you to camp with us during our annual special events. Our amenities include:
over 400 campsites
electrical and water accessibility (30 and 50 amp)
5 bathhouses (4 containing showers)
5 dumping stations that are accessible throughout the park
fishing
several walking trails
A few things to remember….
hoses, extension cords, and leveling devices are not provided by the Denton FarmPark
only one vehicle is allowed per campsite
depending on the volume of campers, awnings may or may not be able to be opened
quiet hours are 11 p.m. to 6 a.m. please keep all children at campsite after 11 p.m. (no wandering around)
Exhibitors: please do not operate tractors etc. during the church service on Sunday ( 9 a.m-10 a.m.)
Returning campers: if you have purchased a larger camper, remember that it may no longer fit in your previous campsite
No refunds, but the Denton FarmPark would be glad to rollover any payment made to another festival in the case of an emergency
* Camping rates vary with each event, contact the office for further information regarding pricing.
Southeast Old Thresher's Reunion ONLY:
All advance reservations must be made for the full 5 days of the event
Campsites reserved for shorter periods of time will be available on a first come first serve basis
Air B&Bs in Denton
Peaceful Acres Farmhouse: located at 5064 NC Hwy 49 Denton, NC 27239 – 336-596-0234  finefamilyfarm@gmail.com
Uwharrie Cabin Rentals: Call 1-800-516-2309 or Email Reservations@uwharriecabinrentals.com
Maw & Paps Tiny Cabin: Call 860-367-4426 or Email tipton.alyce@gmail.com
Tree House Retreat: Call 336-479-4412 or Email jsmiller13@yahoo.com
HOTELS
Click HERE    For all hotel information!