Train Ride      *cash only
Adults $10.00
Children under 12 $5.00
Preschool age are Free
Click HERE to follow the Handy Dandy RailRoad on Facebook
*Pictures at the bottom
Information abut the trains we operate here at the park are in the links below-
Diesel 202 Engine: Click HERE 
Steam #9 Engine: Click HERE
---
Choo-Choo!!
Howdy y'all, the RailRoad has some exciting Information!
April 27th and 28th 2024!
Denton FarmParks At the Throttle Experience
Take the reins of the "Iron Horse"!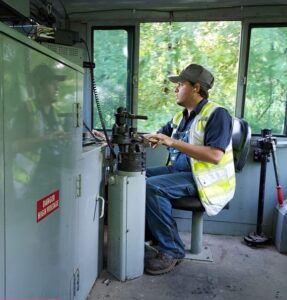 "At the Throttle" is coming to the Handy Dandy Railroad.
The program is a unique opportunity for railfans to live their dream of running a diesel locomotive.
No previous locomotive experience is required. A qualified engineer will be in the cab at all time.  Participants will enjoy going around the park operating the engine (including safety orientation). This experience will be $225.00 (Paid for when booking a time) for 30 minutes as an engineer!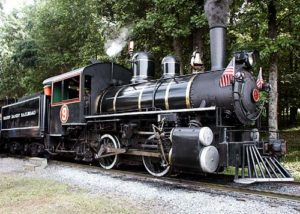 *The proceeds for this event goes to the repair of our beloved 1942 50 Ton Class BSI Porter Steam Locomotive – AKA #9. Read about her history HERE.
For this session  
You will first spend 15-20 minutes observing and learning how to operate one of our diesel locomotives and review the safety procedures from our engineer. You will then spend 30 minutes at the throttle of the locomotive on the Handy Dandy railway, under the supervision of your engineer. 
Additional family members and friends may ride in the caboose for $10 per person.
–Participants wishing to have their picture made should bring a camera. Friends or family or a member of the crew can take a photo of each "At the Throttle" participant and will be given a free railroad hat to remember the experience!
Participants must be at least 18 years old with a valid driver's license.  Clothing appropriate to a working rail yard should be worn.
       

Gloves (optional)

       

long pants

       

long sleeve shirts

       

closed toe shoes (are required)
You will also need to be physically able to climb up to and enter the locomotive cab, and be able to operate the locomotive controls. Please arrive at the Depot, 15 minutes prior your time slot. Safety glasses and ear protection are recommended. Release forms are required. Please bring cash for payment. Please print and bring the release form with you.
Recap: For $225 you get to
       

Operate a train for 30 minutes around the park.

       

Get a free Railroad hat.

       

Take pictures.

       

Free admission to the event for the rest of the day. (park opens at 9)
Release Form
---
At The Throttle Time slots
If you would like to sponsor the Train and be apart of the FarmPark Family and we advertise your business OR you just simply wish to donate to keep the train alive then please contact us!