Denton FarmPark Jeep Ride
August 3rd 2022 the day before the Jeep Festival 
Our Partners Off Road Outlaws out of Lexington will be putting on the Jeep ride raising money for the chosen Non-Profit for the year!
* If you want to participate in the Jeep Ride You Must provide Proof of Insurance or you will be denied! Leaving the FarmPark at 10am. last minute sign-ups will be by the pond from 8:00 – 9:30am and everyone needs to line up behind the ORO FAB Jeep!
For everyone who participates in the Jeep ride will get a sticker to show that you supported!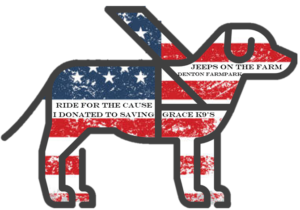 For this event we want to reach out and draw a new crowd to our community and celebrate the event with a ride. It's a way Jeep owners can show off what they have to the town and get a good look around the town and the beautiful views it offers. The ride will charge to participate but proceeds will go to a non-profit organization to help others. The registration form is at the bottom of the page.
This Years Ride will be raising money for Saving Grace K9's
Life is Hard for those with PTSD and at high risk of suicide. So Saving Grace K9's provide free support animals to help those who are suffering. The dogs are rescues themselves and trained with their Veteran. Saving Grace K9s is 100% funded by donors and is located in Lexington, NC. Saving Grace only provide dogs and training for combat-qualified Veterans diagnosed with PTSD. The Veterans must live in North Carolina so that they can easily travel to their Lexington, NC, facility and be part of their service dog's training. Because the organization is small, and the need for combat Veterans to have service dogs is crucial to saving Veteran lives, this is their focus for now.
*Here is the route the Jeeps on the farm parade will take:
Starting at the Pond at 1072 Cranford rd in the park
Turn left on Cranford Rd
Turn Right on Piedmont School Rd
Turn Left on Turn left onto NC-47 W
Continue straight past Bojangles onto E Peacock Ave 
Turn right onto S Main St
Turn left onto E Salisbury St
Continue straight onto W Salisbury St
Continue onto Flat Swamp Rd
Turn left onto NC-8 S
Continue straight onto Badin Lake Rd
Continue onto Blaine Rd
Turn left to stay on Blaine Rd
Continue onto Badin Lake Rd/ Blaine rd
Turn right onto NC-109 S    * Stop at Eldorado OutPost (Gas, snacks, Restrooms, Uwharrie tickets)
Turn left onto Ophir Rd
Turn left onto Low Water Bridge Rd
Turn right onto Coggins Mine Rd
Continue onto New Hope Rd
Turn left onto Volunteer Rescue Rd
Continue onto Handy Rd
Turn right back into the park
The Entire Ride can take between 1hour 10 min to  2 hours depending on the amount of time it takes through town and at the Outpost.
Print Jeep Ride Application Form
Print Sponsorship Form
---
If you would like to Sponsor please contact us today.