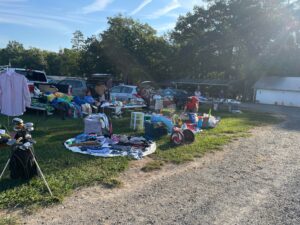 The Denton Yard Sale Day was created as a way to bring together the entire community and have fun while giving the opportunity to clean out your closets for an affordable price. It allows the chance to help those who need affordable clothes and can get them at cheap yard sale prices!
We aim to stretch the yard sales from the Denton FarmPark to the town of Denton, making it a activity people will travel to come see and be apart of.
The dates for the Denton Yard sale days are:
June 3rd 8:00am-12:00pm
September 2nd: 8:00am-12:00pm
This is FREE to everyone entering the park looking to shop/ attend!
Parking is also FREE
*Bath houses on the property will be unlocked these days for your convenience; please help us keep them as clean as possible. Also remember trash goes in Trash bins.
---
For those wanting to set up:
The price is $5 a load. (meaning a truck with trailer is 1 load, a car/van with items = 1 load) There will be a staff member standing outside the gate upon your arrival that you will hand the $5 cash to as you enter off Handy rd. All you have to do is roll down your window to pay then go pick out your spot that you wish to set up at. You must provide your own set up; meaning tables, blankets, chairs or anything else you may need is provided by you, we just provide the location and social media advertisement. If anyone in town wishes to add their own home made sign to catch the drivers attention to the FarmPark that would be appreciated, if anyone has questions please ask. You will have to be at the park NO earlier than 7:00am at our 4259 Handy rd. Denton, NC 27239 address on the day of the sale.
*Please be respectful of others, This is a yard sale Only so if you are a custom/craft vendor or sale anything new, for a business, or anything other that something that's considered a yard sale item, then I'm sorry to say you're not allowed to set up!
Staff will be attending on their day off and will ask you to leave if they fell it necessary, under ANY circumstance, this may not be an event but our family friendly reputation still stands. Lastly this is not a traditional event, so the office will be closed, no fishing is allowed, children must be watched and not allowed to play on equipment or buildings but can play in the pit in the grass, nobody will answer phones and the FarmPark is not held responsible for anything should it happen!
We hope you have a wonderful day!