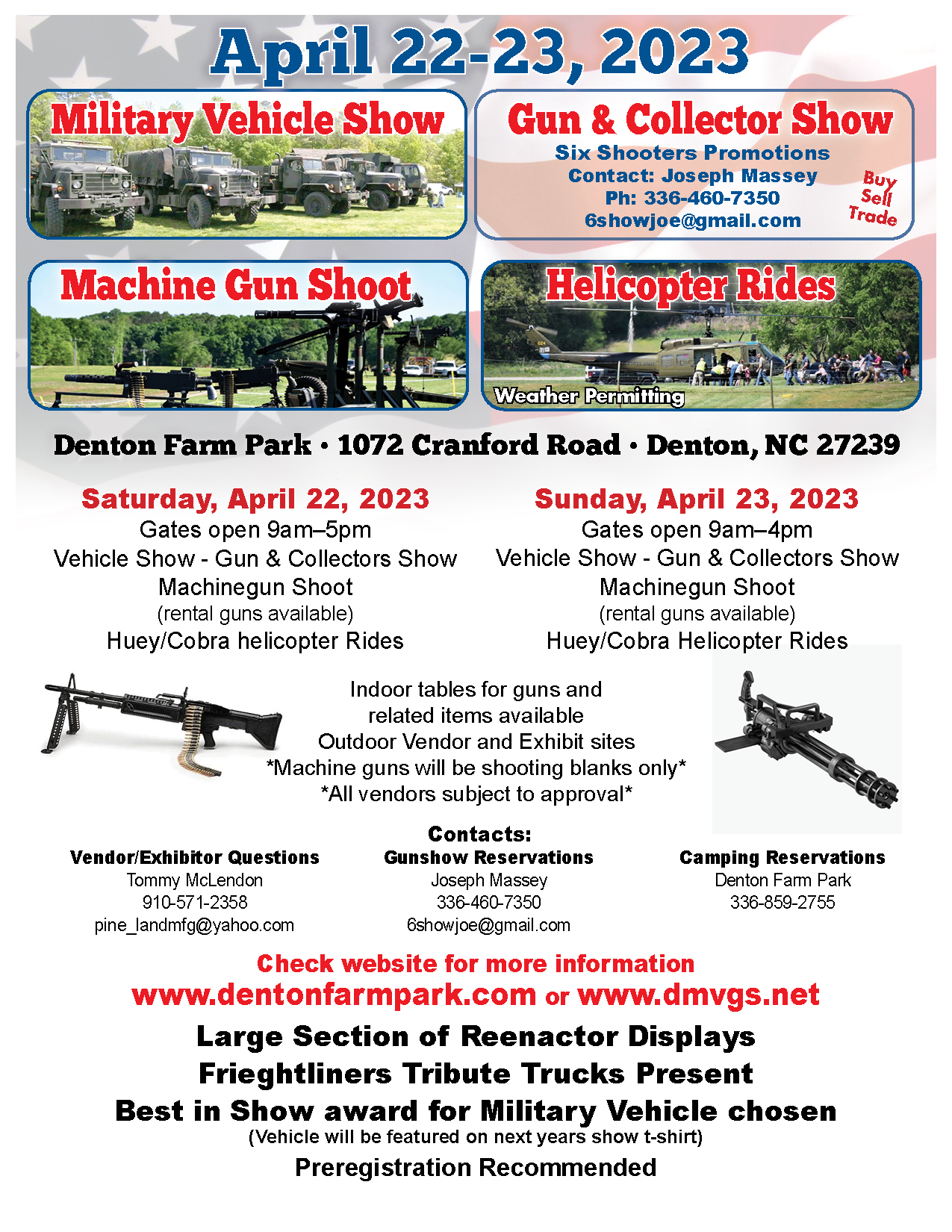 Military Vehicle & Collector Show
 The Military Vehicle & Gun Collector's Show will be at the Denton FarmPark! April 22 & 23, 2023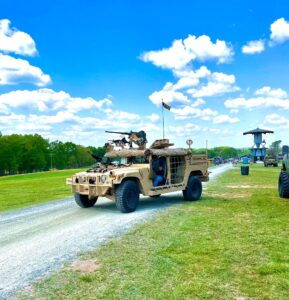 Come see Military Tanks, motorcycles, jeeps, trucks, & amphibious vehicles that will all be on display for visitors! Explore the swap meet and gun show areas, participate in daily events such as convoy rides and shoot a machine gun, take a train ride on the Handy Dandy, and be sure to experience a Huey or Cobra helicopter ride!
Admission:  * We try to equip our gates with Card readers however we still have times where the readers wont work so Be Prepared to Pay with Cash
Adults: $15 for the weekend and $10 for the weekend for Veterans
Children: 7 – 12 half price; 6 & under Free
Veterans are to show proper ID
Helicopter rides are available for the public to ride. Take a flight with the Sky Soldiers of the Army Aviation Heritage Foundation. *Weather Permitting.
** MACHINE GUN SHOOT HOURS **
Saturday – 9:00 AM – 5:00 PM
Sunday – 12:00 PM – 4:00 PM
Machine gun shoot start at $1.00 per round
* All machines guns will be shooting blanks.  MINI GUN, M2HB, M16, AK-47, UZI, 1919, RPD, MG42, M249 SAW & MANY MORE WILL BE AVAILABLE FOR RENT. Prices vary per gun and round count.
** GUN SHOW HOURS **
Saturday – 9:00 AM – 5:00 PM
Sunday – 9:00 AM – 4:00 PM
70+ tables of Firearms and accessories. All tables will contain guns, knives, and/or military surplus.  No "flea market" vendors will be allowed at this event.
Camping accommodations and food will be available on site!
Click HERE to see camping rules!! Campers will NOT be allowed inside park after dark. 
Print Camping Form
Print Vendor Form