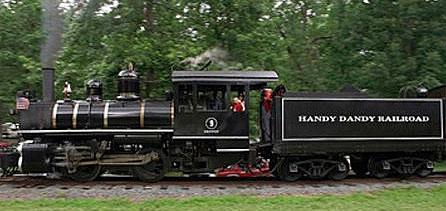 1942 50 Ton Class BSI Porter Steam Locomotive – AKA #9
This Locomotive was built in Philadelphia, Pennsylvania. It is a 1942 0-4-0 switch engine built by Porter Locomotive Company. The Locomotive was located at Bethlehem Fairfield (Maryland) Shipyard; The United States Navy Shipyard in Norfolk, Virginia; PC Company #9 Old Dominion Iron and Steel Company, Richmond, Virginia and Echo Valley Park, and Swamp Rabbit Railroad, Greenville, South Carolina.
In 1979, it was sold to Denton FarmParkfrom Dave Bernhardt and Associates in Mt. Pleasant, NC. It was then brought to the Denton FarmPark from Burnsville, NC. It was restored by the Denton FarmPark staff along with three passenger cars, a tender and a caboose. It was made part of the Handy Dandy Railroad which rides tourists on the 1.5 mile track around the park every year during the Southeast Old Threshers' Reunion at Denton FarmPark.
Here are two pages from past programs
10th birthday steam  –  steam train pg









If you would like to donate or sponsor #9 and help keep it running please contact us.