Carolina Pickers Antique Festival & Swap Meet
For the Spring Pickers 2024 Gates are open from 8am – 5pm 
Join us for the Carolina Pickers festivals held in the spring and in the fall. This event is Hosted by the Carolina Pickers group and using the Denton FarmPark for their events. Click HERE to see their website.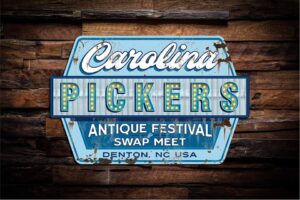 Its Fun for the entire family, Enjoy hundreds of antique vendors, live music, train rides, cars, Live Auction with Hathcock Auction, Wood carving shows, gold cart rentals, various food Vendor's and everything you could imagine under the son for sale!
The Denton FarmPark will be operating the Handy Dandy RailRoad for families to enjoy and will have Laramies Cakery on site in the gingerbread house for all to enjoy freshly baked goods!
If you have any Questions or want to be a vendor or camp please call:
Shane Benfield: 704-232-6428 – Jeff Lemmond: 704-791-7153 – George Benfield: 704-223-0513
General Admission:  * We try to equip our gates with Card readers however we still have times when the readers won't work so Be Prepared to Pay with Cash
$7 a day Kids 12 and under are free
Free Parking and Pet Friendly (Pets MUST be kept on a leash, Friendly, and you Must pick up after them) – Bring Lots of Cash
Camping Information
Click HERE to see camping rules!! Arriving campers will NOT be allowed to enter the park after dark.
Please print off and Mail in the application with a form of payment. If you don't wish to mail it, you can Email us the camping form with a card number or include your phone number to pay over the phone.
When you are at the ticket gate upon check-in, you will be given a form for next year's show.
Make sure when you're renewing for next year's event that you please have the form turned in before you leave show grounds with payment; if you wish to save the same spot you have been given.
Print Camping Form
---