Annual Tractor Ride  With "Gods Pit Crew" that was held on
June, 29th 2023 was a huge success!
Gods Pit Crew is based out of Danville V.A.. They are a non-profit organization committed to bringing hope, healing, and restoration to people in need after natural disasters like hurricanes or tornados. Founded in 1999 Gods Pit Crew has become one of the most effective disaster relief organizations in the United States. We are truly honored!
This is their statement:
Our volunteers are the heartbeat of our ministry! In 2022, over 200 new volunteers joined our crew! We now have over 900 volunteers who served over 150,000 hours this year! When you volunteer with God's Pit Crew, you are helping to transform the lives of people who are in need. Visit our website at godspitcrew.org/volunteer. Please join us below in thanking our dedicated volunteers for their service to God's Pit Crew!
They have something called the Blessing Bucket program and had their volunteers assemble 2,064 Blessing Buckets in just a few hours in December of 2022! Also In 2022, GPC distributed over 30,100 BLESSING BUCKETS, breaking our previous record! They are so grateful for the positive impact these Buckets have had on so many people's lives. It would not be possible to do this without the support of every volunteer who has assembled a Blessing Bucket. This is in addition to the donors and supporters who donate and support!
We are proud to say; We were able to collect $83,555.29 for Gods Pit crew with the help of our wonderful community and our amazing sponsors! This amount will help thousands of people who have lost everything in a natural disaster! We cant thank you all enough for helping support Gods Pit Crew and what they are able to accomplish helping others. 
Below is information for 2024
The SEOTR Tractor Ride will Leave the park at 9:00 am on June 29th. Families, farmers, and friends from across the southeast will parade their tractors through the town to raise money for a special cause. Each rider will receive a t-shirt, goodie bag, and a lunch. Plan to meet at the South Parking Lot • 7:30 a.m. Monday, July 1st, 2024 • 4259 Handy Road, Denton, NC
Tractor Rider: $30 (per person)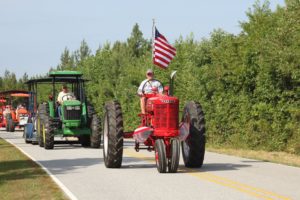 Tram Rider: $40
Registration: 7:30 a.m.- 9:00 a.m.
Ghost Rider: $35 (in honor or in memory) *shirt mailed
The Auction will be (Date being determined) at 6pm in the music hall During the Show.
Tractor Ride Rules
Because of the length of the ride, the number of riders, and the varying road conditions, we ask that the following rules be followed:
All riders between the ages 12 – 17 must have a parent/adult guardian sign the waiver. Otherwise a valid driver's license is required.

All riders must register prior to the start of the ride

All riders must sign a waiver of liability before starting the ride

Leave room for traffic to pass – space out a little every 3-4 tractors

Use common sense – no passing on blind corners on the gravel

Follow posted signs on the highway

Obey traffic laws – no alcohol, stop at stop signs, etc.

One rider per tractor, unless there are multiple seats or an approved trailer with seats attached to the tractor; each rider whether tractor driver or rider must pay registration fee and sign waiver.

We ask that everyone have a good time and be courteous of fellow riders and traffic that is encountered.

If you're traveling alone, please leave an emergency contact number with a fellow rider in the event of an emergency.

Several riders carry tow chains in case your tractor can't make it back under its own power.
---
Tractor Ride Route
Subject to change before May 2024
Leaving the Denton FarmPark South Side- Turn Right on Handy Road
Turn Right on Cranford road
Turn Left on Piedmont School rd
At stop sign- turn Left HWY 47
Turn Right on Sexton rd
At stop sign turn Right on Farmer Denton Rd
Stop at Farmer Methodist Church
Turn Left on Old HWY 49
Turn Right on Brantley Gordon Rd
Turn Left on Valley Farm Rd
Turn Right on HWY 47
Turn Left on Skeen Rd
Turn Right on Cranford rd
At stop sign turn Left on Handy Rd
Turn Left back at the Denton FarmPark
22 miles
---
Proceeds will go to The chosen non-profit
If you would like to be a sponsor for this ride you can fill out the form in the link below (Sponsor/ Tractor Ride Form)
Print Sponsor/ Tractor Ride Form
Print Tractor Ride Release Form
---
Auction Items
TBD
---
Ride Sponsors:
---